LandSure Systems Named One of British Columbia's Top Employers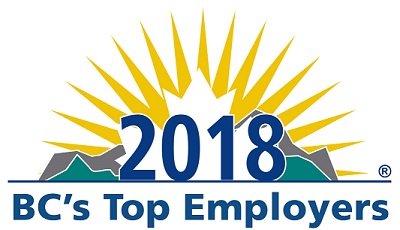 LandSure Systems, a wholly-owned subsidiary of the Land Title and Survey Authority of British Columbia (LTSA), has been recognized as one of BC's Top Employers in 2018 by the editors of Canada's Top 100 Employers.
"The professionalism, knowledge and skills of our employees are key to our success," says Connie Fair, President and Chief Executive Officer. "We have a dedicated and responsive team that serves the public interest by reliably delivering world-leading land title and survey systems to British Columbians."
"Our team is made up of motivated individuals who come to LandSure because they are looking for more than a job in technology. They want to make a difference to BC, and we strive to provide employees with meaningful work in an innovative and supportive environment," explains Rob Cutler, VP Human Resources.
LandSure Systems currently employs approximately 40 people and offers a variety of career opportunities in areas such as information technology, project management, finance, administration, human resources, customer experience, business development and communications.
Now in its 13th year, BC Top Employers is a special designation that recognizes the BC employers that lead their industries in offering exceptional places to work. Employers are compared to other organizations in their field to determine which offer the most progressive and forward-thinking programs to attract and retain talented employees.